I told you I'd use an argyle pattern for this one (and self-made, in totally vector form). Again, an idea I had for a little while. Now here it is materialized.
The particularity of this wallpaper is how it gets away only very basic elements. All models (by nya) were rendered using MMD stock settings with no effects whatsoever. The processing you see is made with Photoshop. Some inexperienced viewer might think I used an MME effect where in fact it's not the case. I also reintroduced my usual play with typography (Univers Condensed and Ultra Condensed are used here). I think it's a tiny little more inspired than the previous one with Reimu. Anyway, you'll be the only judge. Even if people end up not interested in them, my wallpapers remain a hobby, and I like making them. So I'll keep on anyway.
Now here's the beast (click on thumbnails for original size):
– 2K format (2560×1600)

The 2K one is actually 2650×1600 in size instead of 2560×1600! I only typed a wrong number when beginning the project. It's my mistake. Anyway, it shouldn't make any difference when cropping.
– FHD format (1920×1200)

– SXGA and WXGA+ formats (1440×1024)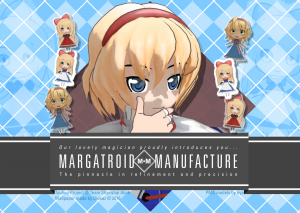 – HD format (1366×800)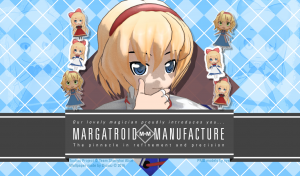 – SVGA and VGA format (1024×640)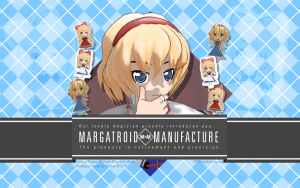 Not offering a VGA variant this time because the contents of the SVGA one fit the entire VGA resolution when cropped, without suffering too much… in case any retrogamer and old 14′ CRT PC monitor user might stumble across this page. 😛
Someone on Reddit suggested the idea of a mobile resolution, too. Definitely something to think about for later attempts (which would require producing in portrait, too).